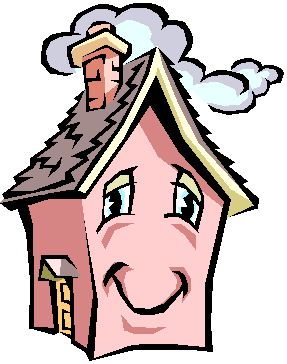 My Houses
[ Up ] [ Hints and Tips ]
I bought my first house in kit form from The Dolls House Emporium. It was their 'Classical' house and I was really pleased with the whole kit. The instructions were excellent and all the parts fitted together properly, it was easy to try things out before I glued or nailed anything. The finished house is very sturdy, I would recommend these kits to anyone. I hadn't done anything much in the way of DIY before but I managed most of this myself, you just need someone to hold things occasionally . It was a very good kit for the beginner with no complicated or fiddly bits to put together.
Second time around I also chose a kit from The Dolls House Emporium, this time it was their Country Store which I decided to turn into a tearoom in an English seaside resort. I thought this would give me more scope to have a go at making my own food accessories from Fimo. Although this was a more complicated kit than my first and took a lot longer to put together, I was still just as pleased with the quality of the parts and the way they all went together so well. Some things were more fiddly, like the balustrade on the stairs and the dormer windows in the roof, but it was just a case of being patient and not trying to rush things. I think because I prefer furnishing the houses to actually making them I want to get the building out of the way too quickly.
Here are some pictures of the rooms in these houses. The tearoom isn't finished yet but it shows off a lot of the food items that I make plus other bits and pieces.
Classical House at Christmas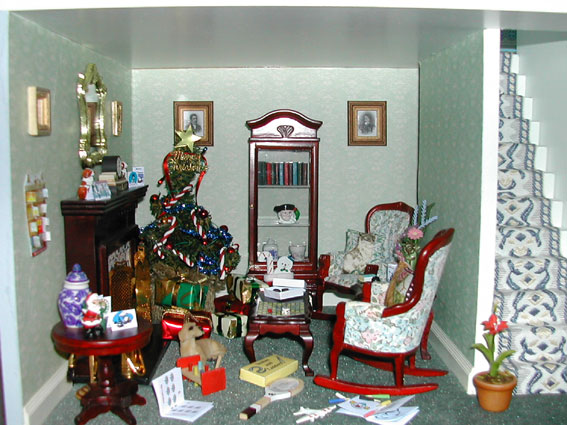 Here is the Lounge in the middle of all the present opening on Christmas morning. Toys and books are on the floor, there is a game of Snakes and Ladders in progress on the table along with an opened box of chocolates. There are lots more presents under the tree too.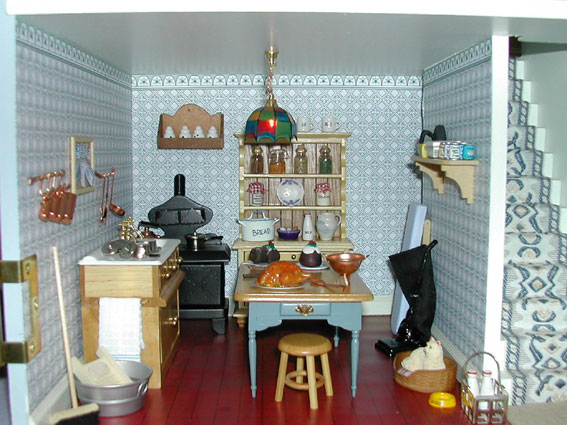 Christmas lunch is ready to be served.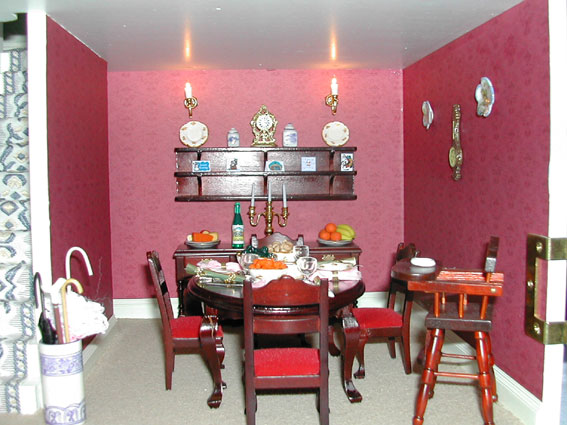 The table is laid for Christmas lunch. We just need Dad to come and carve the turkey that's waiting in the kitchen before the vegetables get cold.
Tearoom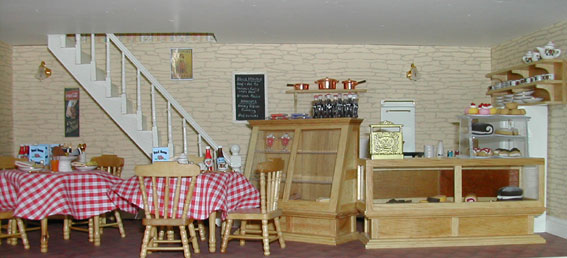 This is the full width of the tearoom, there is room for 2 tables plus the serving area. The stairs lead to the living quarters above.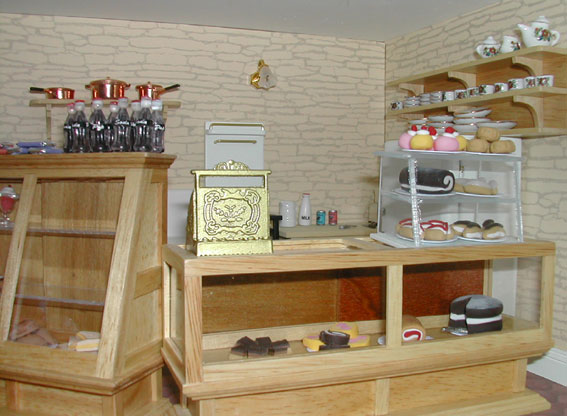 This close up shows the serving area in a bit more detail, although the cooker and sink are hidden behind the counters. As you can see I need to make some more different cakes and sandwiches to fill up the shelves.
---
Copyrightę Jill Taylor2005